SIZE GUIDE FOR RINGS
---
The rings are available in sizes from 48 to 70.
The size is European standard and refers to the circumference of the ring in millimeters.

FIND YOUR SIZE
A jeweler shop can help finding your ring size by measuring one of your rings.
That is the most accurate way to measure.
Another option is to print this size chart.
PRINT SIZE CHART
Click here to print size chart
(Print in actual size 1:1 )
How to use the size chart
Use a ring that fits you well on the finger, on which you would like to wear the Poul Havgaard Ring.
Then you measure the inside diameter by placing the ring on top of the circles in the printed size chart. You must find the circle that matches the inside diameter of your ring.
The inner edge of the ring should align exactly with the circle, so the blue line is barely visible inside the ring. Try different options to assure your selection. If necessary, place the paper on a window against the light to see exactly the shape.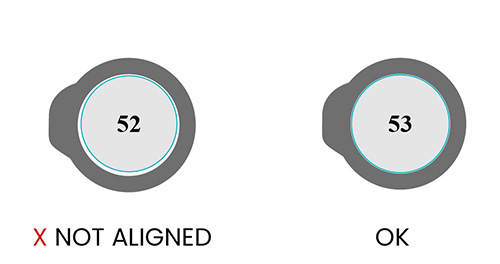 ---
RING SIZES
| Diameter mm | Circumference | Size EU |
| --- | --- | --- |
| 15,8 | 48 | 8 |
| 15,60 | 49 | 9 |
| 15,91 | 50 | 10 |
| 16,23 | 51 | 11 |
| 16,55 | 52 | 12 |
| 16,87 | 53 | 13 |
| 17,19 | 54 | 14 |
| 17,51 | 55 | 15 |
| 17,82 | 56 | 16 |
| 18,14 | 57 | 17 |
| 18,46 | 58 | 18 |
| 18,78 | 59 | 19 |
| 19,10 | 60 | 20 |
| 19,42 | 61 | 21 |
| 19,74 | 62 | 22 |
| 20,05 | 63 | 23 |
| 20,37 | 64 | 24 |
| 20,69 | 65 | 25 |
| 21,01 | 66 | 26 |
| 21,33 | 67 | 27 |
| 21,65 | 68 | 28 |
| 21,96 | 69 | 29 |
| 22,28 | 70 | 30 |
RING NO.54 SILVER
Silver ring designed by Poul Havgaard
Silver ring for women & men
Materials: Sterling Silver 925
Measures:
Weight:
290,00 €

Size Guide