SIZE GUIDE FOR BELTS
---
The size of the belt is the length in cm. from split to belt hole – (not the entire length of the belt- See Illustration)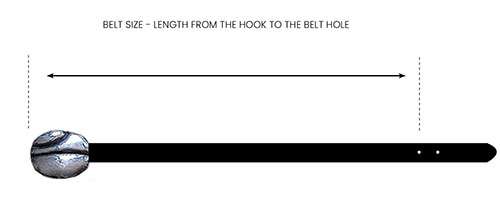 FIND YOUR SIZE
Option 1: Find your size by measuring the circumference of your waist with a tape measure, where you would like to wear the belt.
If you like to wear the belt hanging loosely, add 8-10 cm to the size length. 
Option 2: Measure a belt you already use from the belt split to the belt hole.
---
BUCKLE NO.61 BRONCE
Belt buckle designed by Poul Havgaard
Materials: Bronce and natural leather
Measures: The jewelry is approx. 85 mm x 80 mm
The width of the leather belt is 4 cm.

Please choose the length of the belt.
For help choosing the right size, see the Size Guide below.
560,00 €

Size Guide